Dutch Pronounced!
Hear a wide variety of Dutch names that were in the news or that visitors to the site asked me about - email your request. When asking for names, please give an indication of who the people you ask for are, to make the page more useful.

Cautionary Note
It is of course interesting to know the correct ('Dutch') pronunciation of Dutch names, but in communicating with members of other language communities ('Barbarians') it may be more efficient to use the common modified ('corrupted') way of saying.

At the deli, will saying "Gouda" in the Dutch way get you the cheese you want, or had you better say it like English-speakers do?
Speaking of art, when you try to say "Van Gogh" like a Dutchman (Vincent van Gogh

2) instead of the usual way - 2 people might think you just came down with an acute case of strep throat.
In the movie 'Miracle on 34th Street' a little Dutch girl is brought to Santa Claus, and he is told she doesn't speak English. Not a problem for polyglot Santa - but then the Dutch in the audience will notice the little girl's thick American accent: it's not credible that she shouldn't speak English. For the Dutch any illusion of reality is shattered. No, Virginia. The Dutch Lines in the Movie.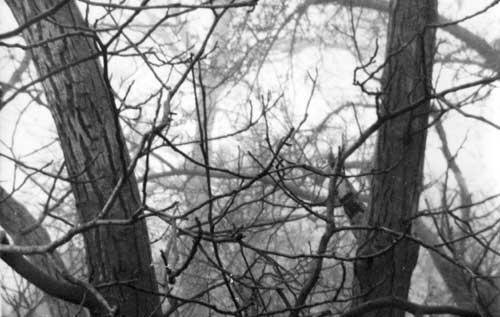 Winter view from my window, ca. 1967 Full Size
Dutch In The News
Aart de Geus

2
3
Synopsis founder and chairman, IT businessman
(Patrick) Cammaert

2
retired Dutch general, member of UN Gaza enquiry commission
Louis van Gaal

2
soccer coach (the Dutch national team, Manchester United)
[Amira] Willighagen

2
young opera singer (first name not recorded)
Jeroen Dijsselbloem

2
European Union official, Dutch finance minister
Museums - (het) museum

plural: musea (museum / musea

) /or/ museums

2
Het Rijksmuseum

2 3 (Amsterdam)
het Stedelijk Museum

2 (Amsterdam)
het Kröller-Müller Museum

2 often called: het Kröller-Muller Museum

2
(near the village of Otterlo

in national park
'de Hoge Veluwe'

2 3)
The 2012 'Second Chamber' Elections
For more recent elections, see and hear
lesson 13
De Tweede Kamer

2 is is The Dutch 'House of Commons' or 'House of Representatives'
verkiezingen

('elections') - stemmen

2 ('to vote') the complete verb - More about Dutch Politics
Party Name, Party Leader
seats
Position - Website
Volkspartij voor Vrijheid en Democratie (VVD) Mark Rutte
41
conservative - >>
Partij van de Arbeid (PvdA) 2 Diederik Samsom 2
38
labor - >>
Partij voor de Vrijheid Geert Wilders 2
15
right-wing, concerned about extremist tendencies in Islam - >>
Socialistische Partij 2 Emile Roemer
15
left-wing, grassroots; has never been in a government - >>
Christen-Democratisch Appèl (CDA) 2 Sybrand Buma 2
(Sybrand van Haersma Buma 2)
13
christian-democrats, centrist - >>
D66 - Democraten '66 2 Alexander Pechtold
12
used to be left-wing liberals - >>
Christen Unie 2 Arie Slob 2
5
christian, mixed on left/right - >>
Groen Links Jolande Sap 2
Bram van Ojik 2 - new party leader after the elections
4
left-wing, environmentalist - >>
Staatkundig Gereformeerde Partij (SGP) Kees van der Staaij
3
orthodox protestant - >>
Partij voor de Dieren Marianne Thieme
2
animal rights - >>
50+ ('Vijftig-Plus') Henk Krol 2
2
older people, pensioners - >>
___
150
more: Dutch government and elections - election results over the years - more recent election results
Tintin
The characters in Hergé's Tintin comic albums have very different names in the Dutch versions of the books:
Kuifje

2
Tintin - referring to his 'quiff' hairstyle
- Bobbie

2
Snowy the dog
Jansen en Janssens

Thomson and Thompson, Dupont et Dupond
Diederik Stapel 2 disgraced psychologist
Klaas Knot incoming president of the Netherlands Central Bank
Nout Wellink 2 outgoing president of the Netherlands Central Bank
new players in the national soccer team:
(Georginio) Wijnaldum 2
Tim Krul
Wouter Spoelman chess Grand Master - Dutch Chess
Albert Heijn 2 the largest supermarket chain in Holland >>
| | | |
| --- | --- | --- |
| Jan Gossaert 2 | Gossart 2 | Mabuse 2 - early Flemish painter >> |
Problematic Brand or Product Names
Fragrance
Bang

means 'afraid' in Dutch. False Friends
Ben je bang?

'Are you afraid?'

Coffee maker Keurig

means 'proper, well-behaved' in Dutch.
Een keurig meisje

'A well-behaved, proper girl' (everything her parents wanted.)

Cell phone Kin

means 'chin' in Dutch. [-discontinued?-]
Music player Zune sounds very much like Dutch 'zoen'

which means 'kiss' - exercise caution and be prepared for misunderstandings when communicating with the Dutch about it. [-discontinued-]

In Dutch, the name of Google's online encyclopedia Knol - hear Dutch means 'nag, not a good horse.' [-discontinued-]
Dating Website 'IJL' (It's Just Lunch) - Dutch ijl

2 3 means 'low air pressure, not solid: rarefied, thin.'


Golf player Louis Oosthuizen

2 (Dutch pronunciation; South African may say it slightly differently)
Louis

- oost

(East) - huizen

(houses)
Soccer World Cup 2010 - The Dutch Team

Maarten Stekelenburg 2
Gregory van der Wiel 2
John Heitinga 2
Joris Mathijsen 2
Giovanni van Bronkhorst 2
Mark van Bommel 2

Dirk Kuyt 2
Nigel de Jong 2
Robin van Persie 2
Wesley Sneijder 2 3
Arjen Robben 2
Khalid Boulahrouz

André Ooijer 2
Demy de Zeeuw 2
Edson Braafheid 2
Michel Vorm 2
Eljero Elia
Stijn Schaars 2

Ibrahim Affelay
Ryan Babel 2
Klaas-Jan Huntelaar 2
Sander Boschker 2
Rafaël van der Vaart 2
Bert van Marwijk 2 (coach)
names list from: FIFA.com
| | | | |
| --- | --- | --- | --- |
| oranje 2 orange | voetbal soccer, 'European football' | elftal [group of 11] team | schot in eigen doel 'own goal' |
more Dutch soccer names - more Dutch sports names - Dutch sports words
The Dutch team will undoubtedly win medals at The 2010 Vancouver Winter Olympics. Hear the names of a few favorites:
Sven Kramer

- Bob de Jong

- Simon Kuipers


Ireen Wüst

- Renate Groenewold

- Margot Boer

- Annette Gerritsen

The Full Team
Spyker

(also spelled Spijker) - Dutch car brand from the early days of the automobile, revived a few years ago and now buying Saab. Victor Muller

is Spijker's CEO and its base of operations is in Zeewolde

>> map
Jasper Schuringa

tackled alleged Christmas plane bomber
Philippe** Herreweghe hear 2 3 - Belgian conductor (**his first name is French) - Dutch musicians - Dutch music vocabulary
Leo Beenhakker hear 2 - the coach of the Polish national soccer team - more Dutch soccer
Jan Wolkers (Dutch Author, 1925-2007)
His Most Famous Books:
Kort Amerikaans ('American short' i.e. crewcut)
Terug naar Oegstgeest (Back to Oegstgeest)
Turks Fruit (Turkish Delight)
hear
The Age of Rembrandt - Exhibition at The Metropolitan Museum of Art, New York
painters:
Rembrandt van Rijn
Johannes Vermeer
Frans Hals
hear
Salomon van Ruysdael
Jacob van Ruisdael
Gerard ter Borch
hear
Hendrick ter Brugghen
Jan van de Cappelle
Pieter Claesz
hear
Aelbert Cuyp
Bartholomeus Breenbergh
Jacob Duck
hear
Jan van Gooyen
Matthijs *Naiveu
Gabriel *Metsu
hear
Joachim Wtewael more about Wt-
Gerard de *Lairesse
Frans Post
hear
Jan Weenix
Jan Steen
Emanuel de Witte
hear - 2
Margareta Haverman
Paulus Bor
Pieter Codde
hear
Adriaen van Ostade
Willem Buytewegh (also: Buytewech)
*Jacques de Gheyn
hear - 2
Jan de Heem
Nicolaes Maes
Abraham van Dijck
hear - 2
Hendrick van Vliet
Hendrick **Goltzius
hear - 2
Ferdinand Bol
Philips Koninck
Abraham Bloemaert
hear - 2
subjects:
Willem van Heythuisen
Jacob Olycan
Aletta Hanemans
hear
Nicolaes Tulp
Jan Six
Herman Doomer
hear
Pieter Schrijver
Anna van der Aar
Haarlem
hear
cities
Dordrecht
Delft
Utrecht
hear - 2
various
Nicholas Ruts
Jan Martense Schenk
hear
* - French names; ** - Latinized German name
See (and hear) also - 170 Dutch and Flemish Painters
and my Vermeer, Rembrandt and Early Flemish Painters pages
The names are in part from three New York Times articles about the exhibition
The Dutch Team at the 2006 Soccer World Cup
Edwin van der Sar
Ruud van Nistelrooij
Arjen Robben
Robin van Persie
hear


The Full Dutch Team
Maastricht
De Maas (river)
Wijck
Valkenburg-aan-de-Geul
hear


vlaai (fruit pie)
Bonnefantenmuseum
Sint-Pietersberg
grotten (caves)
hear


More Maastricht
Gerard Reve (Dutch Author, 1924-2006)
Gerard Kornelis van het Reve (his full name)
hear


His Most Famous Books
De Avonden (The Evenings)
Op Weg naar Het Einde (On The Way to The End)
Nader tot U (Nearer to Thee)
hear
Dutch to Return Art Seized by Nazis
Jacques Goudstikker (art dealer and collector)
Piet Hein Donner (justice minister, Attorney General)
Medy van der Laan (deputy culture minister)
Nijenrode (castle)
Dordrecht (city in painting)
hear
Museums
Rijksmuseum - Amsterdam
Mauritshuis - Den Haag
Frans Hals Museum - Haarlem
hear - take 2



Museum Boymans van Beuningen - Rotterdam
Bonnefantenmuseum - Maastricht
hear
Children's Book Illustrators
Dick Bruna - Nijntje (Miffy)
Max Velthuijs - Kikker (Frog)
Jan Jutte
Annemarie van Haeringen
hear

Fiep Westendorp - Jip en Janneke
Yvonne Jagtenberg - Balotje (Kate)
Philip Hopman
hear
16th Century Painters
Hans Memling
Jan van Eyck
Rogier van der Weyden
Hugo van der Goes
Maarten van Nieuwenhoven (subject)
hear


Hans Memling
(pronounced as a German name)
hear - 2
Pages with More Dutch Names
For more recent elections, see and hear lesson 13
- more recent election results
Party Name
acronym
Party Leader
MP3
# seats
Position
2003
2006
2010
Christen-Democratisch Appèl
CDA
Jan Peter Balkenende
hear
44
41
21
christian-democrats, centrist
Partij van de Arbeid
PvdA
Wouter Bos
hear
42
32
30
labor
Volkspartij voor Vrijheid en Democratie
VVD
Mark Rutte, Rita Verdonk
hear
28
22
31
conservative
Socialistische Partij
SP
Jan Marijnissen
hear
9
26
15
left-wing, grassroots
Fortuyn
Olaf Stuger
hear
8
-
-
right-wing
Groen Links
Femke Halsema
hear
8
7
10
left-wing, green
Democraten 66
D66
Alexander Pechtold
hear
6
3
10
left-wing liberals
Christen Unie
André Rouvoet
hear
3
6
5
christian, mixed on left/right
Staatkundig Gereformeerde Partij
SGP
Bas van der Vlies
hear
2
2
2
christian, orthodox
Partij voor de Dieren
Marianne Thieme
hear
-
2
2
animal rights
Partij voor de Vrijheid
Geert Wilders
hear
-
9
24
right-wing
Eén Nederland
EénNL
Marco Pastors
hear
-
-
-
right-wing
Partij voor Nederland
Hilbrand Nawijn
hear
-
-
-
right-wing
Nieuw Rechts
Michiel Smits
hear
-
-
-
right-wing
___
___
___
150
150
150
more: election results over the years
Party Leaders in the 2002 Elections
Ad Melkert
Hans Dijkstal
Jan Peter Balkenende
Thom de Graaf
Paul Rosenmöller (German name)
hear MP3


Jan Marijnissen
B.J. van der Vlies
Kars Veiling
Fred Teeven
Pim Fortuyn
hear
Services - Contact a Dutchman

Manuscripts - Avoid incorrectly spelled, incorrectly capitalized or improbable Dutch names. I could prooofread your text.
Voice-Overs - Dutch spoken narration for exhibitions, tours etc. Send your English, German or French text or a rough translation into English and I'll make you an offer.
Dutch Accent for The Stage - Specializing in English with a Dutch accent for stage productions. - Pointers - Send me your text and I could give you an idea of how the Dutch speak English.
I can also record my English with a Dutch accent for your movies etc.
Listen to samples: 1 - 2
I also speak German and French with a Dutch accent; I cannot do English with German or French accent.

Ich kann auch Deutsch mit Holländischen Akzent sprechen - zum Beispiel - 2 - 3
Moi, je peux parler Français avec l'accent Hollandais aussi - par exemple
| | |
| --- | --- |
| | Gerard Carbo, 1977 (watercolor) Private Collection |
Famous and Common Names
Names don't join in the frequent spelling reform rounds.
"-szoon" or "-zoon" mean "son of," "-sz" or "-z" is the short patronymic.
Most Famous
Most Common
Rembrandt, Vermeer, Van Gogh
Huygens, Van Leeuwenhoek, Leeghwater
Van 't Hoff, Van der Waals, Kamerlingh Onnes, Oort
Den Uyl, Kok
hear
De Jong
De Vries
Jansen
Van den Berg/Van der Berg
Bakker
hear
Van Dijk
Visser
Janssen
Smit
Meijer / Meyer
hear
Scientists
A Few Fictional Dutchmen
Brouwer (mathematician)
Kuiper (astronomer)
Escher (mathematical artist; German name)
Zeeman (physicist)
Lorentz (physicist; German name)
hear - 2


Tietjens (Ford's Parade's End; improbable Dutch name)
Peeperkorn (Mann, Der Zauberberg) Mijnheer -
Rip Van Winkle (Washington Irving; 'Winkel' in Dutch)
Van Shuyten (Conrad, Heart of Darkness; it should be:
Van Schuyten, S-C-H: a typo perpetuated into eternity)
hear
Nobel Prize winners ‑>>
Jacobus Henricus van 't Hoff - chemistry, 1901
Hendrik Antoon Lorentz - physics, 1902
Pieter Zeeman - physics, 1902
Johannes Diderik van der Waals - physics, 1910
hear - 2
Tobias Asser - Peace, 1911
Heike Kamerlingh Onnes - physics, 1913
Willem Einthoven - medicine, 1924
hear
Christiaan Eijkman - medicine, 1929
Peter Debye (Debije) - physics, 1936
Frits Zernike - physics, 1953
hear
Jan Tinbergen - economics, 1969
Simon van der Meer - physics, 1984
Paul Crutzen - chemistry, 1995
hear
Nicolaas Bloembergen 2 3 - physics, 1981
Gerard 't Hooft 2 3 4 - physics, 1999
Tini Veltman 2 - physics, 1999
Ben Feringa 2 3 - chemistry, 2016
potential future recipients:
Bert Meijer - chemistry
Erik Verlinde 2 3 - physics
more Dutch scientists
Martinus Beijerinck 2 3 (1851-1931, virology)
Hendrik Casimir 2 3 (1909-2000, physics)
Computer Scientists
Edsger Dijkstra 2
Andries van Dam 2 3
Guido van Rossum 2
Johan van Benthem 2
Rob van Glabbeek 2 3
Henny Sipma 2
Frits Vaandrager 2 3
Frans Kaashoek 2
Mariëlle Stoelinga 2
Herbert Bos 2
Bram Moolenaar 2
Marijn Heule 2 3
Bart Jacobs 2 3
Jaap Haartsen 2 3
Amsterdam (A Pronunciation Guide)
Amsterdam
Schiphol (the airport)
Haarlem
Zaandam
hear
gracht
straat
weg
plein
hear
(city canal)
(street)
(road, way)
(square)

brug
steeg
wal
poort
hear
(bridge)
(alley)
(quay)
(gate)

Nationaal Monument
Anne Frankhuis
Beurs van Berlage
hear
Koninklijk Paleis,
Paleis op de Dam
Concertgebouw
hear - 2
Rijksmuseum
Stedelijk Museum
Van Goghmuseum
Scheepvaartmuseum
hear
het IJ
de Amstel
de Dam
het Damrak
hear
Singel
Herengracht
Keizersgracht
Prinsengracht
hear - 2
Begijnhof
Nieuwedijk
Zeedijk,
"de Walletjes" (the red-light district)
hear - 2
Nieuwezijds Voorburgwal
Nieuwezijds Achterburgwal
Oudezijds Voorburgwal
Oudezijds Achterburgwal
hear
Rokin
Spui
Leidseplein
Rembrandtsplein
Waterlooplein
hear - 2
Magere Brug
Vondelpark
Sarphatistraat
Kolkswaterkering
hear
Albert Cuypstraat
Egelantiersgracht
Bloemgracht
Reguliersbreestraat
hear - 2
Blaauw Brug
Lastageweg
Pijlsteeg
Beurspoortje
hear - 2
Lauriergracht
Looiersgracht
Brouwersgracht
hear
Stationsplein
Warmoesstraat
Bijlmermeer
hear
Leidsestraat
Kalverstraat
hear
De Pijp
De Jordaan
hear
Rembrandtsplein
hear
See also: Rembrandt, Old New York and The Diary of Anne Frank

Gebed zonder End

2 ('A prayer without end,' something that goes on and on) - also an Amsterdam street name.
Amsterdam tour guides sometimes come up with the Dutch tongue-twister
"Achtentachtig prachtige grachten"

2 - 88 wonderful canals.
A longer variation:
"Smachtend dacht ik aan de prachtige nachten tussen d(i)e achtentachtig grachten"

2
Full of longing I was thinking of the wonderful nights in the city of 88 canals.
De grachtengordel

2 - the canals belt
(de) rondvaartboot

- tour boat (thank you Steve Random)
Amsterdam dentists
from a famous book:
The Scrounger
Except for the man who thought the Amsterdam Sarpahtistraat the most beautiful spot in Europe, I've never known a more peculiar person than the scrounger.
Nescio: De Uitvreter >>
Behalve de man, die de Sarphatistraat de mooiste plek van Europa vond, heb ik nooit een wonderlijker kerel gekend dan de uitvreter.

Billy Eric: Prinsengracht & Brouwersgracht © 2014
All rights reserved. Used by permission.

Billy Eric: Early Morning Amsterdam © 2007
All rights reserved. Used by permission.
Billy Eric YouTube videos: Dutch New York - Amsterdam - Leyden - Edam
Beer
bier
pils
fles
glas
tap
hear
(beer (lager))
(beer (Pilsner = lager))
(bottle)
(glass)
(draft)


een biertje
een pilsje
een glaasje bier
een flesje bier
hear
(a beer)
(a beer)
(a glass of beer)
(a bottle of beer)


Grolsch
Heineken
Amstel
Oranjeboom
hear


Brand
Dommelsch
Bavaria
Trappist
IJ Wit
hear

Belgian Beers:
Leffe
Hoegaarden
Duvel
hear

Where to Drink
café
bruin café
kroeg
hear
When you like beer, you could try 'een stelletje:' 2 - a beer with next to it a shot glass of 'jonge jenever' (sometimes called 'Dutch gin,' but it's not sweet) - after sipping the jenever, the beer is very smooth and creamy (maybe it's the numbing effect of the jenever's 35% alcohol.)

een stelletje
jonge jenever
hear
After a friend's home, (het)

café

2 may be the best place for drinking beer in Holland. This is of course the French word for coffee but that's not the main attraction here. If it's especially cosy (gezellig

2 3 ‑>> ) it might be called a bruin café

(bruin

2

= brown.)

It may be clean, but it will not be a well-lighted place. (De) kroeg

is mild slang for (het) café.

more about drinks - eating and drinking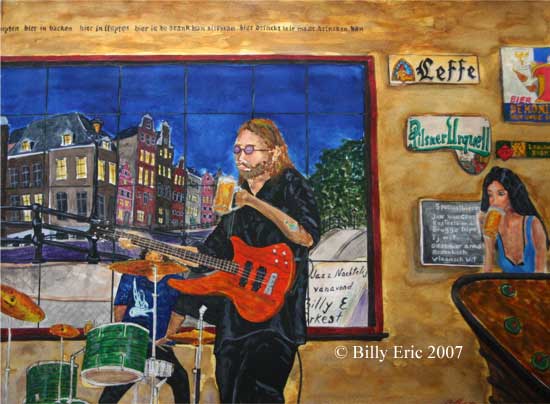 Billy Eric: A Beer between Songs © 2007
All rights reserved. Used by permission.

Billy Eric of New Amsterdam contributed to the Old Amsterdam and Beer paragraphs
Historical artists, associated with the Mennonite/Doopsgezinde community
Karel van Mander
Lambert Jacobsz
Abraham van der Tempel
Jan van der Heyden
Govert Flinck
Samuel van Hoogstraten
hear
Jacob Adriaensz Backer
Adriaen Backer
Salomon van Ruysdael
Isaac Ruisdael
Jan Luyken
Michel Jansz van Mierevelt
Joanna Koerten
hear
Vincent Laurens van der Vinne
Hendrik Willem Mesdag
Sientje Mesdag
Anton Mauve (French name)
Hercules Segers
Crispijn de Passe
Cornelius Coornhert
hear
Menno Simons: 'De Stillen in den Lande' (The quiet ones in the country)
Dutch Baroque Artists
Rachel Ruysch
Jan Commelin
Judith Leyster
Abraham Bloemaert
Gerrit van Honthorst
Dirck van Baburen
Jan Lievensz
hear
Jacob Backer
Gerbrand van den Eeckhout
Aert de Gelder
Willem Buytewech
Jan Molenaer
Pieter Codde
hear
17th Century
Engravers and Painters
Three Great Masters
and A Soccer Coach
Roelant Roghman
Geertruydt Roghman
Boetius Bolswert
Jacob Matham (French name)
hear
Jan van Huysum
Willem Claesz. Heda
Jan Jansz. den Uyl
Guus Hiddink
hear
20th Century Painters
Van Ruijven
Kees van Dongen
Willem de Kooning
Piet Mondriaan
Karel Appel
hear
Claes van Ruijven
Pieter Claeszoon van Ruijven
hear
(Pieter C. was a Vermeer patron, bought more than 20 of his paintings.)
Some of The Contemporary Music Scene
(alternate)
Tijs (Thijs) Verwest (Tiësto)
Ferry Corsten
Armin van Buuren
hear
Paul van Dyk
Benno de Goeij
Sander Kleinenberg
Ilse de Lange
hear - 2
Paul van Dyk
Benno de Goeij
Piet Bervoets
Sander Kleinenberg
hear - 2
Rockers of Old
Peter Koelewijn
Joost den Draaier (dj)
(= Willem van Kooten)
hear
Cuby + Blizzards
Harry Muskee
Eelco Gelling
Herman Brood
hear
The Golden Earring
George Kooymans
Cesar Zuiderwijk
Rinus Gerritsen
Frank Krassenburg
hear
Focus
Thijs van Leer
Jan Akkerman
Pierre van der Linden
hear
Q65
Frank Nuyens
Wim Bieler
Dick Schulte Nordholt
hear
Earth & Fire
Gerard Koerts
Chris Koerts
Jerney Kaagman
hear
Robert Jan Stips (Supersister)
Kaz Lux (Brainbox)
Rick van der Linden (Ekseption)
hear
Robbie van Leeuwen (The Motions, Shocking Blue)
Peter Tetteroo (The Tee Set)
Wally Tax (The Outsiders)
Ronald Splinter (The Outsiders)
hear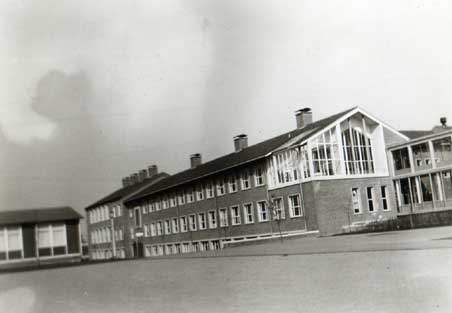 Wageningen School of Agriculture buildings
Bicycling
fiets, fietser (bike, bicyclist)
Rijwiel, wielrijder (bicycle, bicyclist)
hear
('Wielrijder' is more formal and posh
than 'Fietser'.)

Ga toch fietsen! - hear
Literally: 'Go ride your bicycle, go biking!' but it also has a sense of 'I don't believe you!' - like 'Take a hike!'
More Bicycle Words
More Dutch Bicycling
Dutch Bicycle Racers
Miscellaneous
Herman Dooyeweerd (1894-1977, philosopher)
Dodewaard (small city in central Holland)
Sjeng Schalken (tennis player;
in 'Northern' and 'Southern' Dutch *)
hear
Edsger Dijkstra (Computer scientist)
Johan Cruyff (Soccer star)
Max Euwe (Chess world champion 1935-1937) >>
Richard Posthumus (If the Republican candidate for governor of Michigan had been a Dutchman, this is how his name would have been pronounced.)
hear
Joop Zoetemelk (bicycle racer)
Coosje van Bruggen (contemporary artist)
Van Eyck (Eik, Eijck)
Van Dijk (Dyck, to Eng. Dyke)
hear
Wouter Bos (present leader of Dutch Labour party)
Waterloo (Belgian locality, where Napoleon met his final defeat)
Roosevelt, Van Buren (US presidents of Dutch descent, how their names would have been said in Holland)
Maartje, Maertge (girls' names; Maertge (Vermeer's daughter in Tracy Chevalier's 'Girl with A Pearl Earring') is no longer used; I think it's an older, Flemish form)
hear
Pieter Bruegel (16th century Flemish painter)
(unusual UE pronunciation)
Van der Heyden (17th century architecture painter)
Neeltje Maria Min (20th century poet)
Katje, Betje, Maasden (Dutch (?) Trixie Belden characters)
hear
Ruud Lubbers (80s prime minister)
Jaap de Hoop Scheffer (NATO Secretary-General)
Wim Duisenberg (former EU central bank president)
Teun van Dijk (linguist)
hear - 2
Nicolaas Spykman 2 (1893-1943,
Professor of International Relations at Yale)

Simon Luttichuys (17th Century painter)
Nicolaas Spykman (see above)
Paul van Dyk, Tiësto (DJ's)
hear

Douwe Draaisma (historian of psychology)
Gerard Unger (typographer)
Aad de Mooy (contemporary composer)
Robert van Wyck (19thC. New York mayor, as Dutch-Dutch)
hear
Boudewijn (boy's name, Belgian King)
Schuyler (Dutch-American boy's name)
Genade ('mercy')
hear
('Schuyler' is not found as a first name in Holland)

Van Beethoven 2
- the composer's Belgian grandfather's
first name was Lodewijk
Marinus de Jonge
(New Testament Scholar)
hear
Andreas Cornelis 'Dries' van Kuijk
(Probably) Elvis manager 'Colonel Parker'
hear
Mostly Towns
's Gravenhage (The Hague)
wielewaal (a bird: golden oriole)
De Blauwe Kamer (lake)
hear
Kamerijk (village)
Wassenaar (town)
Leiden (city)
Merwede (part of the Maas river near Rotterdam)
hear
Thomas Joannes Stieltjes

2 (mathematician, 1856-94, known for the Riemann-Stieltjes integral)
Rem Koolhaas

(architect)
Abraham "Bram" Pais

(particle physicist and historian of modern physics)
('Pais' is not originally a Dutch name, but we do have the word 'pais' in the expression 'Pais en vree' (very peaceful)

- probably from French 'Paix' (peace.)
Buys Ballot

(19th Century scientist, best known for weather studies) (Christophorus Henricus Diedericus Buijs Ballot

)
Van Hiele

(Dina van Hiele-Geldof, Pierre van Hiele

- 'Pierre' is a French name)
math educators: The Van Hiele Levels of students' geometric reasoning
Hulshof

2 3 (how the name is said in Holland) Kenny Hulshof, 2008 Republican candidate for governor of Missouri
Simon Vinkenoog

Dutch poet and author
Tijl Uilenspiegel

Medieval prankster and folk hero - in Germany: Till Eulenspiegel
Sjeng Scheijen

2 art historian, specializing in Russia
Alkemade

2 - the Alkemade theorem in thermodynamics phase diagrams - (A.C.) Van Rijn van Alkemade

2
eigen

(math term)
mysterie

(a mystery)
Rijkswaterstaat

(Government body managing water)
Stormvloedwaarschuwingsdienst

[high-winds flood warning service]
a government department monitoring dangerous weather conditions and possible flooding
Beemster Graskaas

("considered a special treat among Dutch cheese gourmets") made of the early Spring milk,
from when the cows get out of the Winter stables into the meadows of young, fresh gras

('grass.')
The 'Beemster'

2 is a 17th Century polder

2 ('reclaimed land.') >>
Musschenbroek *

2 - Pieter van Musschenbroek

2 3 18th Century scientist (math, physics)
- inventor of the Leyden Jar (Leidse Fles

2 3 - Dutch (de) fles

means 'bottle')
Boerhaave

- Herman Boerhaave

2 18th Century scientist (medicine)
's Gravesande *

2 - Willem Jacob 's Gravesande

18th Century scientist (physics)
Van Leeuwenhoek

2 - Anthonie van Leeuwenhoek

17th Century scientist, inventor of the microscope
Huygens

2 - Christiaan Huygens

17th Century scientist
Simon Stevin

17th Century scientist
Garden Dutch 101
Scheepers (well-known bulb brokers)
Keukenhof (famous Dutch bulb display gardens)
Jelena de Belder (Jelena is a Slovene (Slavic) name, hope I got it right) (a cultivated witch hazel tree is named after her)
Estella Rijnveld, Stella (Estella is a Spanish name, Stella is the Dutch version) (name of a tulip)
J.S. Dijt (name of an early-blooming iris)
Welwitsch (German)(nineteenth-century botanist for whom Welwitschia is named)
Ghislaine de Feligonde (French)(name of a rose)
hear
more tulip names
Zomerschoon

2 ('Beauty of Summer,' a 1620s tulip)
(de) zomer

('Summer') - schoon

('beauty' - though in Northern Dutch it now usually means 'clean')
A Small Fruit Song "Said the Apple to the Orange, ..."
framboos, braam (raspberry, blackberry)
aalbes, kruisbes (red currant, gooseberry)
aardbei, rozebottel (strawberry, rose hip)
sinaasappel, citroen (orange ('China-apple'), lemon)
kers, pruim (cherry, plum/prune)
perzik, abrikoos (peach, apricot)
hear
more fruit names

Carel Fabritius, The Goldfinch (1654)
Mauritshuis, The Hague

Birds of Holland
vogels (birds)
Carel Fabritius
't Puttertje (the Goldfinch)
Mauritshuis
hear - 2
zwaluw (swallow)
vink (finch)
nachtegaal (nightingale)
duif (dove)
zwaan (swan)
hear

merel (blackbird)
lijster (thrush)
specht (woodpecker)
roodborstje (robin)
eend (duck)
hear

spreeuw (starling)
mus (sparrow)
hear

havik (hawk)
uil (owl)
koekoek (cuckoo)
raaf (raven)
kraai (crow)
hear

adelaar, arend (eagle)
ooievaar (stork)
reiger (heron)
meeuw (seagull)
gier (vulture)
(vleermuis (bat))
hear
Bugs World: Insekten
mier (ant)
kever, tor (beetle)
lieveheersbeestje (ladybug)
kakkerlak (cockroach)
hear
vlinder (butterfly)
nachtvlinder (large moth)
("butterfly of the night")
libelle (dragonfly)
sprinkhaan (grasshopper, locust)
hear
pissebed (pillbug)
bromvlieg (house fly)
mug (mosquito)
langpootmug ('daddy longlegs' mosquito)
spin (spider)
hear
duizendpoot (millipede)
oorwurm (earwig)
hooiwagen ('daddy longlegs' spider)
rups (caterpillar)
krekel (cricket)
hear
bij (bee)
wesp (wasp)
vlo (flea)
teek (tick)
mot (small moth)
hear
more bugs
Old New York - Old New York page
Haarlem - (Harlem)
Vlissingen - (Flushing) (medieval English sailors probably already used this name for the Dutch port city)
Breukelen - (Brooklyn)
Staten Land - (Staten Island) (The 'Staten' (Estates) were the 17th Century Dutch government)
Kromme Zee - (Gramercy) (crooked sea/lake)
De Bouwerij - (The Bowery)
Schuylkill ('hidden(?) river' in Philadelphia; 'kil' or 'kille' means 'river' or 'canal,' no longer found in modern Dutch.)
hear - Much More Old New York (about 500 words and names)

More Dutch names:
First and Last Names - Place Names - Vermeer's World - Rembrandt - 17th Century Sailors and Ships - Old New York

The National Gallery, London
Somewhat Related
I used to subscribe to a magazine in basic Spanish, in an attempt to learn that language; what I remember best was an article about Van Gogh that curiously gave the title of a painting in English ("Sunflowers"); I guess that makes more sense than to have them in Dutch, but why not in Spanish ('Las Flores del Sol')?
- Wenceslao Grillo tells me that the Spanish word is Girasol ("turn-flower,") and the Van Gogh painting is called Los Girasoles in Spanish. That word wouldn't make sense to a beginning student of Spanish. - Thank you Wenceslao for ongoing corrections.

VOICE-OVERS
Dutch spoken narration for exhibitions, tours etc. Send your English, German or French text or a rough translation into English and I'll make you an offer.

DUTCH ACCENT for the stage
Specializing in Dutch accent for stage productions. Pointers
Send your text and I could give you an idea of how it's spoken with a Dutch accent.
I can also record my English with a Dutch accent for your movies etc.

MANUSCRIPTS
Avoid incorrectly spelled, incorrectly capitalized or improbable Dutch names. I could prooofread your text. Contact a Dutchman
email your request - When asking for names, please give an indication of who the people you ask for are, to make the page more useful.

email - copyright © 1999-2006 Marco Schuffelen - All rights reserved. This material may not be published, broadcast, rewritten, redistributed, or hotlinked to.
Don't be a dief (thief) / dievegge (female thief) - diefstal (theft) - stelen (to steal) - heler (dealer in stolen goods) - hear Dutch - 2