more pictures dictionary pages
Hear The Names of Tulips
This page came about because of a query from Ed Wall and Rimmer de Vries; my sound files will eventually also become part of Ed's website OldTulips.org
| | |
| --- | --- |
| tulp | tulpen (picture © Rimmer de Vries 2010 all rights reserved) |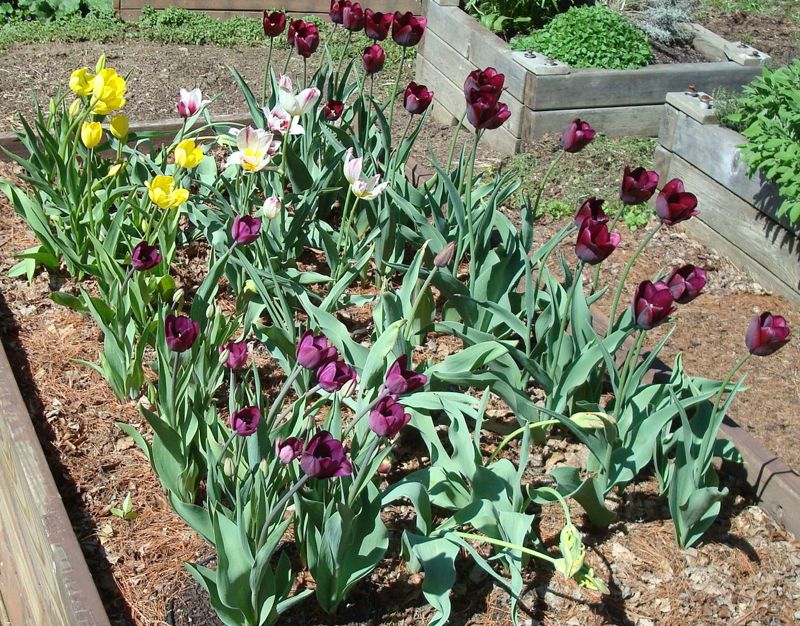 tulpen

(picture © Rimmer de Vries 2010 all rights reserved)
| | |
| --- | --- |
| 'Standard Silver' - Zilveren Standaard | Broken Red Tulip with A Yellow Ground |
(pictures © Rimmer de Vries 2010 all rights reserved)

(De) kleur

2 ('color') - plural: kleuren

('colors') - >> Dutch Colors
Heirloom Tulips
Most of the modern tulip names were found on Scott Kunst's site: Old House Gardens

Admiraal van der Eijck

- mentioned in Mary Mapes Dodge's Hans Brinker

>> - it says the admiral was the first owner of this tulip. I'd never heard of the man before. Also known as: Admiraal Verijck

2 *
Admiraal van Enkhuizen

2 ('Enkhuizen Admiral') - Enkhuizen

was an important port on the old Zuider Zee

2 - a naval base with its own fleet of warships.
Bontlof

2 (probably: 'in praise of rich, varied colors')
Dillenburg

- the castle in Nassau

(Germany) where William of Orange (see below) was born.
Estella Rijnveld

(a woman's name - 'Estella' is a Spanish name. The Dutch version is Stella

)
Gele Prins

('Yellow Prince') - geel / gele

2 ('yellow')
Generaal De Wet

2 - South-African leader in the Boer War (1899-1902.) A famous quote: Alles sal reg kom

('everything is going to be all right.')
Greuze

(French painter (1725-1805) - the name is here said in the Dutch way)
Insulinde

- 'the Dutch Indies,' a name thought up by famous Dutch author Multatuli

2 (Latin: 'I have suffered much')
Keizerskroon

2 ('Emperor's Crown') - (de) keizer

('emperor' - from Latin Caesar) - (de) kroon

('crown')

Lac van Rijn

- Van Rijn

2 is a family name ('river Rhine,') 'Lac' (also: 'Lack') means red coloring.
Philippe de Commines

- a medieval nobleman from Flanders with a French name
Prinses Irene

- a younger sister of present Queen Beatrix (Koningin Beatrix

2)
Professor Schotel

2 - as a word, (de) schotel

means 'saucer' - kop en schotel

('cup and saucer.')
Purperkroon

2 ('Crown of Purple') - (de) kroon

('crown') - and as you might have guessed, purper

is 'purple,' but it's an old-fashioned word. Modern Dutch is paars

2 (paars / paarse

2)
Schoonoord

2 ('A beautiful place' - also a town in the Eastern province of Drente

) - see 'Zomerschoon' for note about 'schoon.'
Spaendonck

- a family of artists
Standaard Zilverbont

('Standard Silver-with-Rich-Varied-Colors'?)
Van der Neer

(an uncommon last name)
Het Wapen van Leiden

('Leyden Arms') - in the Dutch Revolt (1568-1648) Leiden

was the second city in Holland that withstood a Spanish siege, and in honor of that the first Dutch university was established there
Willem van Oranje

(William of Orange, nicknamed 'William The Silent' Willem de Zwijger

1533-1584) was the Dutch George Washington, the first leader of the Dutch Revolt (1568-1648) - after his 1584 assassination succeeded by his sons Maurits

and Frederik Hendrik

.
Zilveren Standaard

2 ('Silver Standard') - zilver

2 ('silver') - Periodic Table of The Elements
Zilverschoon

('Silver Beauty')
Zomerschoon

2 ('Beauty of Summer,' a 1620s tulip) - (de) zomer

('Summer') - schoon

('beauty' - though in Northern Dutch it now usually means 'clean')
Zwanenburg

('Swans' Town' - a town in the West of Holland)
De Keukenhof

2 is a large tulips park in Lisse

2 (between Haarlem

and Leiden

) open from about March 25 to May 20.
Als de lente komt, dan stuur ik jou tulpen uit Amsterdam.


('When Spring comes, [then] I'll send you tulips from Amsterdam.')
| | | |
| --- | --- | --- |
| tulpenboom = (?) magnolia 2 | tulpenboom | (de) knop 2 - (plural:) knoppen |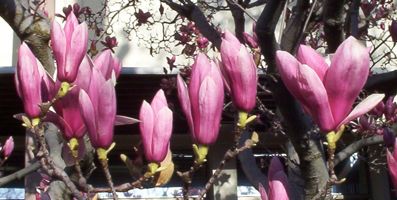 tulpenboomtulpen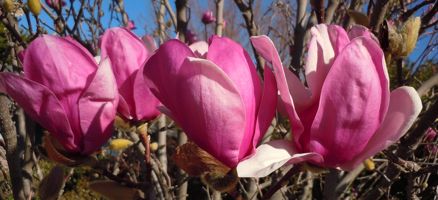 tulpenboomtulpen

The P. Cos Book
To us, the 'P. Cos Book' is a catalog of the 'Tulipmania' bubble of ridiculously inflated prices that burst in 1637. Most of the paintings were made by Jacob Isaacsz. van Swanenburgh

2 who was in the 1620s Rembrandt's first teacher; a smaller number of the paintings was made by Adriaen van Witvelt

2
Wageningen University in The Netherlands has beautiful scans of the P.Cos book on their website
OldTulips.org is a website in development by Ed Wall that has links to beautiful paintings of the old tulips - Ed has my permission to use my tulip names sound files.
According to an article by Liesbeth Missel, curator of Wageningen University Library, Holland, 'admiral' (admiraal

2) and 'general' (generaal

2) in tulip names refers to coloring; there were no actual military men by those names.
I am just a Dutchman of general education, a native speaker of Dutch without special knowledge of 17th Century Dutch - my pronunciation and translations are based on modern Dutch - let Ed or me know if you think I'm wrong and you have a better idea.
Dutch spelling was only standardized in the 1800s.
P. Cos, bloemist te Haarlem

P. Cos, Haarlem florist
2. Purper en Wit Jeroen

2
Purple and White Jerome
3. Tulp uit Saet of Bellert

'Tulip from seed or ? (bell-ringer??)'
4. Pargoen Lifiens (Liefkens): Pargoen Liefkens

2 - paragon

2 is a large diamond: Paragon Liefkens

5. Gel en Rot van Leijen - probably modern Dutch: Geel en Rood van Leiden

2 'Yellow and Red of Leyden'
6. Uyt Roepien probably modern Dutch: uitroepen

'crying out' (proclaiming its beauty?)
7. Admiraal Verijck

2 aka Admiraal Van der Eyk

Admiral V.
8. Soomerschoon - modern Dutch: Zomerschoon

2
summer beauty
9. Petter

2 maybe: 'from the town of Petten'

?
10. Lagrandt (Legrandt): Legrand

2
(a French name)
11. Schone Brabantson - probably: Schone Brabantse

2 'a beauty of Brabant'
In the Middle Ages, Brabant

was a large duchy - now divided between Belgium and The Netherlands
- in Modern Dutch, schoon

usually means 'clean,' but in the South and in Belgium it still means 'beautiful.'
12. Gouda

town in Holland, famous abroad for its cheese
13. Viseroij: Viceroy

(pronounced half-French) 'a high official ruling in a king's name'
14. Admeral Rotgans: Admiraal Rotgans

'Admiral R.'
15. Admirael Liefiens (Liefkens): Admiraal Liefkens

2
'Admiral L.'
16. Latoer

2
probably Dutchified French, meaning unknown
17. Admiral Golsien: Admiraal Golsien

2
'Admiral G.'
18. IJslijf

2
'ice-body' - colored like ice?
19. Parel

2
pearl
20. Admirael Backer: Admiraal Bakker

Bakker

is a common Dutch family name, like in English, meaning 'baker,' .
21. Otto de Man (Otter de Man)

2 a person's name - though 'otter'

2
means (as you might have guessed) 'otter.'
22. Nieuwenburgher

2
'new citizen:' the new tulip on the block?
23. Admiral de Fransche: de Franse Admiraal

'The French Admiral'
24. Blijenburgher

2 3 'Happy Citizen' - gladdens the heart?
de vroege

2 the early (blooming)
de laaste probably: de late

2 the late (blooming) - laatste

2
'last' looks unlikely
25. Wit en Rood Boode

'white and red messenger?' - 'bode'

means 'messenger, servant'
26. Coorenaert - modern Dutch: korenaar

ear of wheat
27. Tarlon (Tourlongh): Tourlon (?)

or maybe Toulon

(the city in France)
28. beste ijurij (Iorij)

2 best ? (I have no idea what it means or if I say it right)
ijurij

or

? - Iorij

or

- I don't know.
29. Max

a name like in English
30. Branden-burgher: Brandenburger

'from Brandenburg,' an area in the East of Germany'
31. ghevlamde boterman - modern Dutch: gevlamde boterman

2
'flamed butterman' - my best guess: a flame-patterned version of a yellow tulip
32. Bruine purper: Bruin Purper

'brown purple' (a dark-red purple?)
33. Roosje van Catolijn

2
small rose of C.
34. Nons wit

I can only think of "Nun's White" but it doesn't make much sense (catholics were in hiding at the time) - although there is also a white-headed pigeon called 'non.'
de vroege

2 the early (blooming)
de laate - modern Dutch: de late

2
the late (blooming)
35. Admiral Catolijn: Admiraal Catolijn

2
'Admiral C.'
36. pocgher - modern Dutch: pocher

2
'boaster'
37. vroege blijenburgher

'early Blijenburger'
38. Saijbloem: zaaibloem

2
'sowing flower'?
39. Lijon: Lyon

The French city
40. Faber

Latin 'maker' - also a family name in Holland
41. manna cier

2
decorative nutrition? feeding the sense of beauty?
42. Jan Ghertsen

2 (Jan Gerrtsz

2 - an unlikely name) - more likely: Jan Gerritsz

2
43. Spinnekop

spiderhead
44. Admeraal de Man - Admiraal De Man

2
Admiral De M.
45. Asientier

2
The only thing I can think of is German 'animal from Asia' - I may be entirely wrong
46. Rector

2
'head of a religious college or high-level school'
47. Admerael Crintiens (Krijntjes) - Admiraal Krijntjes

Admiral K.
48. Oudenerder

'from the Belgian town of Oudenaarde'

2
famous for its medieval tapestries.
49. Generael Ver IJck (Van der Eyk): Generaal Verijck

General V. - see also Admiraal Verijck
50. Witte Marvelijen (Marveilje): Witte Marvelijen

2 'Marveilje'

Probably: Dutchified French 'merveille' (mriacle, marvel)
51. Enghels admeral: de Engelse Admiraal

'the English Admiral'
52. Mols wijck: Molswijk

family name, maybe a small village
53. Lack van Rijn

'Van Rijn' is a family name, 'Lack' (or 'Lac') means 'red pigment.'
54. Ghememert van Kaer

an unusual name
55. Troij cluer van Noviel (Troijs coleur van Noville): Troijs Couleur van Noville

'Couleur' is of course French for 'color,' but I have no idea what 'Troijs' or 'Noville' stand for
61. Orangie Camelot

(half-French)
62. Tulipa aga

Latin, meaning unknown to me
63. gebiesd van Coornart ~ modern Dutch: gebiesd van korenaar

2 - gebiesd

2 means 'striped,' like strips of cloth sewn onto a larger piece of fabric, so I assume this is a striped version of the Coornaart/Coorenaert (korenaar) tulip
65. Tulipa sulph(urea): Tulipa Sulphurea

2
Latin, probably 'sulphur-colored tulip' - yellow; the Dutch word for sulphur is
zwavel

66. Tulipa anassos

Latin, meaning unknown to me
67. Tulipa zescv sla (?) - I have no idea what 'zescv' could mean. 'Sla'

means 'lettuce' in modern Dutch, but it may well be a misspelling or have meant something else at the time
other old tulips
Gouden Standaard

2
golden standard
Goudvink

2
goldfinch
Pottenbakker

2
potter (ceramics artist)
Sent - modern Dutch: cent

2 'penny' - an unlikely name for an expensive tulip?
100 cents in a gulden

('guilder) - 5 cents in a stuiver

2
'nickel.'
Aes, Asen
The weight of the tulip bulbs was often given in 'Asen'

2 (singular: aes

2) - a jeweler's measurement (1 Aes = 0.048 grams - there are about 4 Asen in a carat.)

Asen Conversion Table, Asen compared with Grams and Ounces - more Metric and Imperial Compared
1630s Prices of Everyday Items
Some of these tulips were sold for hundreds, even thousands of guilders, which was a very large sum at the time, when a common worker earned two or three nickels a day. Wageningen University has scanned some religious-tinted pamphlets condemning the speculative trade. One of these, 'Clare Ontdekking' gives an interesting list of contemporary prices, all these items together are the same price as paid for one of the top tulip bulbs. Remember that a common workman would earn two or three nickels a day at the time, and there were 20 nickels in a guilder (f, for florin.)
From: 'Clare Ontdekking' (#19) (from: Wageningen University Tulips Portal)

twee lasten tarwe = (2x3000) 6000 liters = 1500 gallons of wheat - f448
vier lasten rogge = (4x3000) 12000 liters = 3000 gallons of rye - f558
vier vette Ossen = 4 fat oxen - f480
acht vette verckens = 8 fat pigs - f240
twaelf vette schapen = 12 fat sheep - f120
twee oxhoofden wijn = 2x220 liters - 100 gallons of wine - f70
vier tonnen bier (van acht gulden) = 4 barrels of beer - f24
twee tonnen boter = two barrels of butter - f192
duysent pont kaes = 1000 Lb of cheese - f120
een bedde met fijn toebehoren = a bed with quality bedding - f100
een pack kleeren = a suit of clothes (?) - f80
een silveren beecker = a silver cup - f60
--------------------------------------- all together: f2500
een schip om alle dese waren te voeren
a ship to transport all these goods: f500



witte tulp 2 3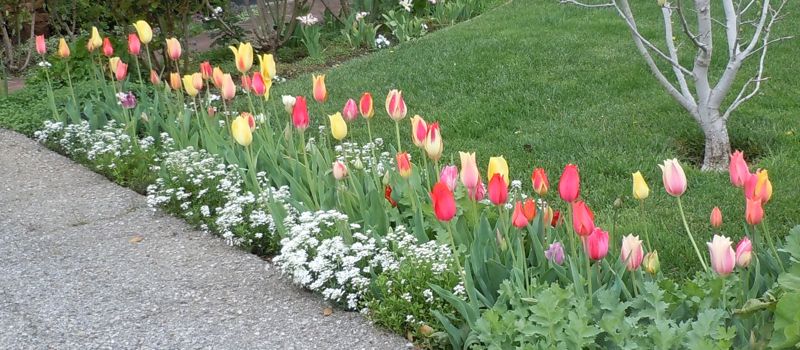 tulpen

email - Copyright © Marco Schuffelen 2010. All rights reserved. This material may not be published, broadcast, rewritten, redistributed, or hotlinked to.
Don't be a dief (thief) / dievegge (female thief) - diefstal (theft) - stelen (to steal) - heler (dealer in stolen goods) - hear Dutch - 2
Gij zult niet stelen

'Thou shalt not steal'