baby kale

Dutch Kale with Mashed Potatoes

stamppot boerenkool 2 /or/ boerenkoolstamppot 2 3
(de) boerenkool 2 - kale

I was very happy to find large bags of 'baby' kale (very young leaves) at a favorite store.
At my parents' house in Holland, in the Fall, a man would sometimes bring an armful of large curly leaves of kale. It was a lot of work, removing the large veins and cutting up the leaves. It was always said kale tasted best after the first frost of Autumn.
This dish can be prepared in one large cooking pot, add the potatoes after the kale has cooked for 20 or 25 minutes (the kale will have shrunken) - but I find it easier to cook and mash the potatoes separately and add the cooked kale later.
It's traditionally eaten with smoked sausage - but I prefer an omelette and sauteed mushrooms. Pickles are also traditional.
Feeds 2 or 3 - you could add more potatoes if there is a third person at your table.


shredded kale
1½ Lb (750g) baby kale
1 Lb (500g) peeled potatoes
5 oz (150ml) milk
for the mashed potatoes: pepper, nutmeg, a little butter
Protein: smoked sausage or omelet
optional: 6-8 slices of bacon, in pieces
optional side dishes:
a few pickles, cut
½ Lb (250g) mushrooms
optional: cubed cheese

Pick over kale, remove discolored leaves (if any) and wash (if necessary);
Bring kale to a boil in a large pot with 3 cups of water, lower heat but keep at a boil, and cook for 45 minutes (it will shrink considerably);
(Optional) Wash, cut and sautée mushrooms;
Peel and cut potatoes, bring to a boil and cook for 17 minutes
(start boiling potatoes when kale still has 25 minutes to go;)
(Optional) Prepare bacon;
Prepare omelet or heat up sausage
Drain water from potatoes, add milk, butter, pepper and nutmeg, mash and mix;
Put cooked kale in colander, press with wooden spoon to squeeze out water;
Cut kale on cutting board, mix into mashed potatoes
(add pieces of bacon;)
Serve with sausage or omelet;
If you like, serve with sliced pickles.
Some stores sell cut-up large kale leaves: prepare in the same way, only you don't have to cut it after cooking
| | | |
| --- | --- | --- |
| | | |
(de) stamppot 2 is a mix of a (usually) cooked vegetable like curly kale or endives with mashed potatoes and often with bacon.
boerenkool 2 '(curly) kale'
boerenkoolstamppot 2 3 - also called: stamppot boerenkool 2 is usually served with smoked sausage: boerenkool met worst .

I often

have it with sautéed mushrooms: gebakken champignons 2 3 and an omelet: omelet
- a good combination: een goede combinatie 2
- it goes together well, it is a good fit: 't past er goed bij 2.
You can also use that phrase for people: ze passen goed bij elkaar 2 ('they are a good fit, they make a good couple.')
aardappels potatoes - (de) aardappelpuree mashed potatoes

I've been adding cheese

with chickpeas and red bell pepper
instead of sausage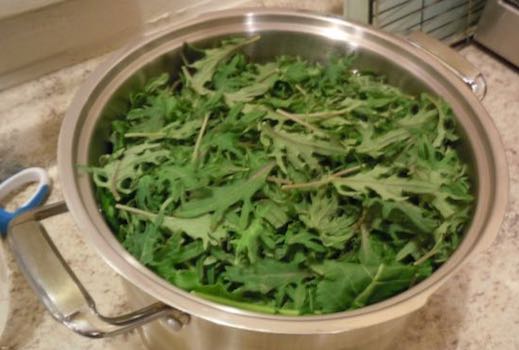 baby kale
email - Copyright © Marco Schuffelen 2013. All rights reserved. This material may not be published, broadcast, rewritten, redistributed or hotlinked to.
Don't be a dief (thief) - dievegge (female thief) - diefstal (theft) - stelen (to steal) - heler (dealer in stolen goods) - hear Dutch - 2
More Recipes
| | | | | |
| --- | --- | --- | --- | --- |
| hutspot >> | erwtensoep >> | rode kool 2 >> | sperziebonen >> | snijbonen 2 >> |
Dutch Pictures Dictionary Pages