Welcome - Site Maps: Mobile - Desktop
~ Desktop/Tablet Version of This Page Smartphone Verbs Home
Spreken - Conjugation
'Spreken'

'to speak' is a strong verb:
spreken
to speak
-
sprak
spoke
-
gesproken
spoken
Like almost all verbs with A in the simple past tense, that A is 'short' in the singular, but 'long' in the plural
overview
spreken
to speak
ik spreek
I speak
wij spreken
we speak
ik sprak
I spoke
wij spraken
we spoke
ik heb gesproken
I have spoken
simple present tense
spreken
to speak
ik spreek
I speak
jij spreekt
you speak (singular, informal you)
hij spreekt
he speaks
wij spreken
we speak
jullie spreken
you speak (plural, informal you)
zij spreken
they speak
U spreekt
you speak (polite you)
2
simple past tense
(spreken)
to speak
ik sprak
I spoke
jij sprak
you spoke
hij sprak
he spoke
wij spraken
we spoke
jullie spraken
y'all spoke
zij spraken
they spoke
U sprak
you spoke
2 3
present perfect tense
ik heb gesproken
I have spoken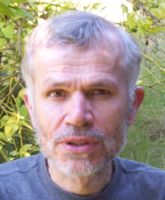 ik spreek

2
'The Speaking Dutchman'
'Spreken' - Sample Sentences

Ik spreek Nederlands

2 [I speak Dutch] - I'm speaking Dutch, I do speak Dutch
Ik spreek geen Engels

2
I don't speak English
Je spreekt goed Nederlands

2 [You speak good Dutch] - You speak Dutch well
Hij spreekt vloeiend Nederlands

2 [He speaks fluent Dutch] - He speaks Dutch fluently
Hij spreekt ook Duits

He also speaks German
Veel mensen spreken Engels

Many people speak English Niet veel mensen spreken Latijn

[Not many] Few people speak Latin
Zou je alsjeblieft Nederlands willen spreken?

Could you please speak Dutch? (informal 'you') Zou U alstublieft Nederlands willen spreken?

Could you please speak Dutch? (polite 'you')
Zou U wat langzamer willen spreken?

2 Could you please speak [somewhat] a little slower?
Ik spreek geen Nederlands

2 I don't speak Dutch Ik spreek helaas geen Nederlands

2 Unfortunately, I don't speak Dutch
Ik spreek niet goed Nederlands

2 I don't speak Dutch well Ik spreek geen goed Nederlands (?)

I don't speak Dutch well
Met wie spreek ik?

2 Who am I speaking to? Who's calling? (on the telephone)
Hij sprak veel

He spoke much, he was talking a lot Er werd veel gesproken over vrijheid

2 There was much [spoken] talk about freedom
Wie spreekt er voor de slachtoffers?

2 3 Who speaks for the victims? (who voices their viewpoint)
Goropius

2 17th Century Dutch linguist
"Adam en Eva spraken Nederlands in het Paradijs"

"Adam and Eve spoke Dutch in Paradise" "In het Paradijs spraken Adam en Eva Nederlands"

2 "In Paradise, Adam and Eve spoke Dutch" Volgens Goropius spraken Adam en Eva Nederlands

2 According to Goropius, Adam and Eve spoke Dutch Goropius zegt dat Adam en Eva Nederlands spraken

2 Goropius says that Adam and Eve spoke Dutch
See also: Word Order
Spreken is zilver, zwijgen is goud

To speak is silver, (but) silence is golden
Met twee woorden spreken

2 "Speak with two words (instead of one)" - suggesting to children to be polite
Bij wijze van spreken

2 3 In a manner of speaking, As a figure of speech
't Spreekt me niet aan

It doesn't appeal to me
(a little stronger and more polite than: 't Zegt me niks - Zeggen)
Hij sprak hun tegen

2 He contradicted them, he said their version was untrue or not correct
zich verspreken

to misspeak, say something else than you intended Ik versprak me

2
Ik heb me versproken

2 I misspoke, it's not what I wanted to say
Wilt U via een tolk spreken?

2 Would you like to speak using an interpreter? Wilt U liever met een tolk spreken?

2 Would you rather speak with an interpreter? (de) tolk

2 interpreter (instant translation)
(de) vertaler

2 translator
(de) vertaling

2 3 translation
Er is inderdaad geen goede vertaling

2 [There is indeed ...] You're right, there is no good translation Ze hielp hen met de vertaling

She helped (assisted) them with the translation
Dat zeg je niet zo

2 3 [You don't say it that way] It's not the right way to say that (pointing out a mistake) Is er geen Nederlands woord voor?

2 3 Is there no Dutch word for it? Er is geen Nederlands woord voor

2 There is no Dutch word for it Ik ken dat woord niet

I don't know that word Wat betekent 't?

2 What does it mean? Wat betekent dat woord?

2 3 slow What does that word mean? What is the meaning of that word?
't Betekent ...

It means ... 't Betekent heel iets anders

2 It means something [very] completely different Kun je 't omschrijven?

2 Could you describe what it means? (When you don't know the translation) Is er een ander woord voor?

2 Is there another word for it? Hoe zeg je dat in het Nederlands?

2 How do you say that in Dutch? Hoe zeg je dat precies?

2 3 How do you say that exactly? Begrijp je echt wat er staat?

2 Do you really understand what it says? (looking at a written text) - See also: Speaking Dutch, Speaking about Dutch
't Is niet fout ...

2 It's not wrong ... ... maar je kunt 't eenvoudiger zeggen

2 3 ... but [you can say it more simply] there's a simpler way to say it /or/ ... maar 't is niet mooi

2 3 ... but it's not pretty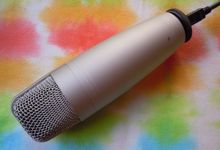 microfoon

'Spreken' - Related Words
(de) woordvoerder

2 3 spokesperson
(de) spreekbuis

2 mouthpiece, not-objective speaker (het) spreekwoord

2 saying, standard phrase - Dutch Sayings (het) spreekuur

2 3 doctor's office hours (walk-in) (het) gesproken boek

[spoken] audio book
(het) sprekend voorbeeld

[speaking] very good, very illustrative 'telling' example (het) gesprek

2 conversation, talk
Ik heb een lang gesprek met m'n baas gehad

I had a long talk with my boss
(het) sollicitatiegesprek

2 job interview See also: Jobs (het) vraaggesprek

interview (old-fashioned - most people use the English word) (de) bespreking

2 meeting for discussion (de) afspraak

appointment - also: agreement Ik heb een afspraak om acht uur

2 3 I have an 8 o'clock appointment Kan ik de afspraak verzetten?

2 Can I (move) reschedule the appointment? Ik herinnerde hem aan de afspraak

I reminded him that there was an agreement (het) afspraakje

2 (romantic) date
(de) toespraak

speech, address
(de) uitspraak

1. pronunciation 2. statement, verdict (de) inspraak

2 3 involvement, some co-decision power by lower-level participants (het) spraakgebrek

2 speech impediment
spraakmakend

2 [speech-making] - creating much talk, famous, notorious (het) spraakwater

2 the saliva flying from the mouths of some speakers vanzelfsprekend

[speaking for itself] - obvious, self-evident // (according to common expectation) (de) wettelijke aansprakelijkheid

2 legal liability aanspraak maken op

2 laying (a) claim to (het) onbesproken gedrag

[behaviour above reproach] - unblemished conduct
Ik had schrijver willen worden, maar ik ben spreker geworden

I wanted to be a writer, but I've become a speaker
(de) stem

voice // vote ‑>>
plural: stemmen

2 voices
Wat is er met m'n stem?

What's [going on] wrong with my voice? Jeetje wat kraakt m'n stem

Gee, [how my voice is croaking] how croaky my voice is Ik herkende hem aan z'n stem

2 I recognized him by his voice
The soundalike slang word spieken

means cheating on an exam or test by using a cheat sheet or looking at other students' answers

from 'Using Words': Words - The News

More Good Dutch Smartphone Pages

email - Copyright © Marco Schuffelen 2016.
All rights reserved. This material may not
be published, broadcast, rewritten,
redistributed, or hotlinked to.
Gij zult niet stelen

'Thou shalt not steal'