Raisin Bread
I strongly recommend making 'regular' bread a few times before advancing to raisin bread.
With the higher sugar content the raisin bread burns more easily. Regular bread can bake a few more minutes than necessary without great damage, but for raisin bread you want to be sure what's the minimum baking time for your oven.
It's said you can only put in the raisins when you form the bread, not before the kneading. Working in the raisins and nuts stirring with a spoon after the kneading is not going to work well. What I do is dividing the dough in five or six pieces, flattening those pieces, spreading out the raisins and nuts over them and rolling them up. It takes me about an hour but I think it's worth it. Don't put raisins or nuts on the outermost layer and raisins on the outside of the bread will burn.
Almond paste can also be put in this way for 'Stollen' - a nice touch at Christmas and Easter or other festive days.
There's more sugar in this bread than in the common bread - I don't understand why, but because of that you also need more flour for a manageable dough.
The sugar content of the sponge dough would be too high for the yeast to flourish - you need to start kneading right after mixing in the proofed yeast solution.
In a (covered) 'Pullman Pan' the crust doesn't get that dark:



baked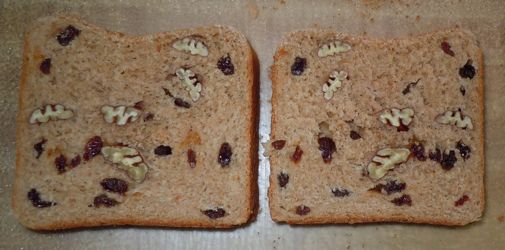 krentenbrood

2

- a few more pictures
1¾ cup (285 g) wholewheat flour (stoneground)
2¼ cup (285 g) white flour
1 tsp (6 g) salt
11 oz water = 7 oz cold, 4 oz boiling
(330 ml water = 210 ml cold, 120 ml boiling)
3 oz (90 g) + ½ tsp sugar
2 TBsp (30 ml) olive oil
2 tsp dry yeast
raisins
pecans or walnuts
almond paste (optional)
Put salt and wholewheat flour in a large bowl, make a well in the middle and add olive oil and the large amount of sugar;
Rinse a small cup with water and put in ½ tsp sugar;
Bring a little water to a boil, mix 4 oz (110 ml) of it with 7 oz (210 ml) cold water, mix so it will be about body temperature for the yeast;
Pour about half of the tepid water in the small bowl with a little sugar, and the other half in the well of the wholewheat flour;
Sprinkle dry yeast over the water in the small bowl, mix in and let it stand for five or ten minutes, till foaming and bubbling;
Stir the water in the well in the large bowl with a sturdy wooden spoon, dissolving sugar, then mix with the wholewheat flour;
Put white flour over the wholewheat flour and water etc. mixture, then mix in proofed yeast solution, mix first with white flour and then with the wholewheat flour etc., have it all come together and then knead by hand for eight to ten minutes - if the dough keeps sticking to your hands add a teaspoon (or two) of flour, if the dough is too tough sprinkle a teaspoon (or two) water over it;
I guess you could let a bread machine do the mixing and kneading;
Cover the bowl and let the dough 'double in volume' (45 minutes to an hour;)
Punch the risen dough down and knead it lightly; then divide it in five or six pieces that you flatten one by one as shown in the pictures above (it helps to already pre-flatten the next piece;)
Put on the raisins first, so you can press them down with a rolling pin - leave room for the nuts;
Press pecans or walnuts with the round side down into the dough;
Roll up the flap of dough, and press tightly, then flatten second piece, lay out raisins and nuts - put the first roll on a side of it and roll up the second flap around it, press tightly again, and repeat;
Don't put raisins or nuts on the last layer;
Lay parchment paper on a baking sheet and put the bread on it, or coat breadpan with a little butter and flour, and let the bread rise in that (cover dough with parchment paper if you're using a Pullman pan) - put it in a warm place like the oven with the light on;)
When you like the size of the bread (usually after it has risen an hour or so) put it in the oven (or leave it in the oven) and turn the oven on, to 425°F (225°C) and bake it for about 27-30 minutes (ideally you have found the best time baking regular bread - Heating-up times vary between ovens;)
in an oven preheated to 425°F (225°C) bake for about 20-22 minutes;
Let the bread cool down for about an hour before cutting
Air pockets, especially around the almond paste are a problem that even professionals cannot avoid (if that's any consolation)
You can also make individual raisin bread 'rolls'




Compare with Commercial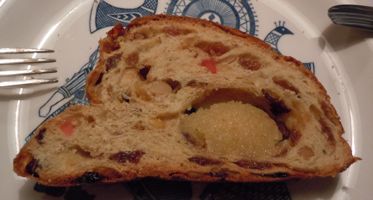 Kerstbrood / Paasbrood

- spijs

(almond paste)
| | |
| --- | --- |
| krentenbol 2 | krentenbol 2 |
email - Copyright © Marco Schuffelen 2019. All rights reserved. This material may not be published, broadcast, rewritten, or redistributed.
Don't be a dief (thief) / dievegge (female thief) - diefstal (theft) - stelen (to steal) - heler (dealer in stolen goods) - hear Dutch - 2