leven en laten leven

2 'live and let live' baas in eigen buik

2
'master (mistress?) over my own belly' - pro-choice, abortion rights slogan
blijf van m'n lijf!

2 [stay away from my body!] - 'My Body, My Choice' 't kaf van 't koren scheiden

'separating the chaff and the wheat, like the men from the boys' ... en klaar is Kees

'... and Casey is done' - said when a job is done, a piece of work finished lekker lezen

2 enjoying reading lekker lui liggen lezen

enjoying a lazy read, lying down het leed is geleden

2
'the suffering is over'
De laatste loodjes wegen het zwaarst

[the last weights are the heaviest] - finishing a job is the hardest part in een ver verleden

in a distant past vieze vis

bad-tasing fish de vroede vaderen

'the wise fathers' - the (old) city government goede gaven

good, welcome gifts 't Is goed genoeg

It's good enough knappe koppen

2 3 clever, intelligent [heads] people Karel de Kale

Charles the Bald (a grandson of Charlemagne) De Gesel Gods

(old-fashioned possessive form) 'the Whip of God' - from the (disputed) idea that God occasionally sends destructive people (like Attila the Hun) to punish or test humankind met de handen in het haar

2 [hands in the hair] - despairing, don't know what to do ik lap 't aan m'n laars

2 I don't care, ignoring a rule or recommendation de dikke en de dunne

2 ['the fat one and the skinny one'] - Laurel & Hardy te dom om voor de duivel te dansen

2 ['too stupid to dance for the devil'] - very stupid, not a bright person hij bakt ze bruin

['he's baking them brown'] - he's going to extremes, excesses met de billen bloot

2 ['with buttocks bared'] - it's necessary to come clear, find out the truth, get to the bottom of the matter Ik kan m'n kont niet keren of ...

(slang) 1. I can't turn my ass around or ... - when my attention lags for a moment bad things happen 2. (without 'of ...') I can't turn (my ass) around - describing a very narrow space tuig van de richel

2 lowlifes, very bad people wachten tot je een ons weegt

2 3 4 (saying) ['waiting until you weigh 100 grams (~3 ounces)'] - a never-ending wait 't gaat je niet in de kouwe (koude) kleren zitten

2 ['it won't stay in, i.e. stop on your cold clothes'] - it affects you, it has an impact on your mood schoon schip maken

[cleaning ship] - clearing out things, so you can start with a clean slate ik zag de zon in de zee zinken


(in Amsterdam: ik sag de son in de see sinke

) 'I saw the sun go down in the sea'

Zit niet zo te zeuren

2 Now stop that nagging Dat zou zuur zijn

2 That would be sad, a disappointment 't zwarte water

2 "The Black [Water] Pond" - a book title 't pientere pookje

('the clever stick-shift') slogan for the Dutch DAF car's automatic transmission Al die dingen doen dat nou

2 3 4 ['All those things do that now'] -That feature is now on all those devices Doe geen domme dingen!

2 3 Don't do [stupid things] anything stupid Al de domme dingen die ik gedaan heb!

2 3 All the stupid things I've done! De gong ging

2 3 4 5 The gong [went] sounded - the program will start soon Wereldwijde week van de veiligheid

- 2 'Global safety week' - a company slogan I thought up Ik werd wakker van de wekker

I was woken up by the alarm clock Hoe weinig we weten

2 How little we know! (we don't know much) Niks mis mee

2 There's nothing wrong with that Vragen staat vrij

2 3 4 'You're free to ask, feel free to ask' Marco geld geven is goed

>> 2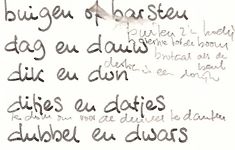 early version of the list (ca. 1975)
You might also want to hear:
from classic Dutch poems and books
Nederlands is een mooie taal ... maar misschien niet om te zingen