Gingerbread - Ontbijtkoek - Breakfast Cake
| | | |
| --- | --- | --- |
| slicing | one slice | buttered |
My mother used to bring a glass of fresh orange juice and a slice of buttered 'ontbijtkoek' (breakfast cake) when she woke us up in the morning (am I spoiled?) - but even so the name 'breakfast cake,' never seemed right to me, for in general it's eaten with midmorning coffee. 'Gingerbread,' is a better name.

The 'ontbijtkoek' that you buy in the store, it's chewy, a bit tough; this recipe may give you something similar, but I don't know how to achieve that chewiness - though flax seed and honey help.
There was a New York Times article a few years ago about fat in cakes breaking up the gluten strings of flour, and to use pastry flour (low in protein and gluten) for crumbly lowfat cakes; but this 'breakfast cake' is supposed to be somewhat tough.
Some banana bread recipes say not to overwork the mixing, so as not to develop breadlike tough, long gluten strings; from that thought I've used a mixer for a minute or two to mix 'ontbijtkoek' batter, but it did not give chewiness.

Note that there are no eggs in the recipe, and it's very low in fat - no butter, no sour cream like in my other cake recipe; though it's very good buttered, you don't have to.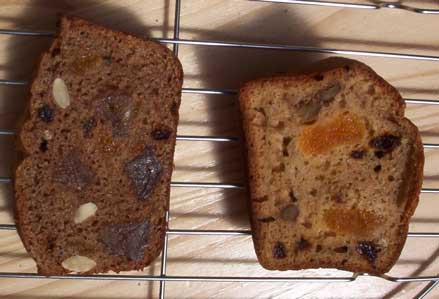 'Gingerbread' and 'Banana Bread'
250 g (12/3 cup) wholewheat flour (or a mixture of wholewheat and rye flour)
1½ tsp baking powder (or use self-rising flour)
175 g (1 packed cup or a little more) brown sugar
or 235 g honey (add 15-25 g extra wholewheat flour)
2 TBsp flax seeds
200 ml (6½ oz) milk

1 tsp ground cinnamon
½ tsp ground cloves
½ tsp ground ginger
½ tsp all-spice
¼ tsp anise seeds (grind)
some freshly ground pepper
some freshly ground nutmeg

or, 1½ tsp 'koekkruiden' (buy a jar when visiting Holland)

½ tsp salt

75 g (2½ oz) baking ('crystallized') ginger
a handful raisins
a handful (75 g, 2½ oz) nuts (almonds, pecans, walnuts or filiberts hazelnuts)
8-10 dried apricots, cut each in 3 or 4 strips
(optional) lemon or orange rind zest
(very optional) fresh ginger (a piece the size of a thumb, peel) - to be grated
(I think it's not worth the trouble)
Put in a medium bowl 175 g brown sugar (or 235 g honey) and ½ tsp salt, pour 200 ml milk over it, stir lightly, set aside;
(I usually put honey in a glass jar, heat it up in microwave, let cool down - 1 or 2 hours before)
Preaheat oven to 150°C (325°F);

Butter 2L (8-cup) breadpan, dust with flour;
Cut a piece of parchment paper to fit the top of your breadpan, butter it on one side;

Mix flour, baking powder, flax seeds and spices in a large bowl;

Add raisins, nuts, cut apricots and crystallized ginger, and mix;
(optional) Zest orange or lemon over it;

(optional) Add freshly grated ginger;
Stir milk/sugar/honey solution, add to dry ingredients, mix well;
Pour batter in breadpan, put buttered piece of parchment paper on top (buttered side down);

Bake for 1 hour and 20 minutes;

Test with toothpick or sharp knife: it should come out clean;

Leave in breadpan for 10 minutes, then let it cool further on a rack.
Upgrade 2017
I now use a larger 'Pullman' breadpan (13x4½x3½ inches - 33x11x9cm) and tweaked the ingredients
I use the American teaspoon, 5 ml

A few hours before baking, mix honey and milk - stirring occasionally. That's much less work than the vigorous stirring required when you need it fast.
325 g honey
¾ tsp salt
300 g ( 300 ml) milk
If you keep flour in the refrigerator like me, put flours in a covered large bowl (I use a 2 quarts, 2 liter large glass measuring cup) a few hours before baking:
235 g wholewheat flour
190 g rye flour
Mix the spices and baking powder into the room temperature flour:
1½ tsp cinnamon
½ tsp ground cloves
½ tsp all-spice
½ tsp ground ginger
¼ tsp cardamom
½ tsp ground fennel (anise)
ground pepper (~15 turns of the mill)
2 tsp baking powder
Add the other ingredients and mix into the flour/spices:
a handful of raisins
15-20 dried apricots, cut in half
130-140 g crystallized ginger (cut large pieces in half)
130-140 g nuts (pecans, walnuts, almonds)
Method:
Preheat oven to 325°F (175°C)
Coat baking pan with butter, dust with flour
Make sure all honey is dissolved in the milk
Add milk/honey mixture to flour/spices/etc., stir well and pour/ladle into baking pan
Cover baking pan (optional)
Put in oven and bake for one hour 20 minutes
Test cake with toothpick, it should come out clean
Leave in pan for about 15 minutes, then put on rack to let it cool
Slice when cool; spread some butter on the slices
I use one of these fine graters to zest lemons, oranges and kumquats.
They're extremely sharp, please be very careful and don't hurt your fingers.
Also find here the kitchen scale I use.
other recipes - Your Chef: Marco Schuffelen - email