Pre-Surveying: Laying out The (Outer) Corners of The Soccer Fields
Surveying - Repainting - All Dimensions

Determining where to position the field and laying out the (outer) corners is a two- or three-person job. For the surveying, laying out and painting all the lines on the field for the first time, it's best to have a six- or seven-person team. We pre-survey, lay out the corners (or outer corners of parallel fields) beforehand, to avoid that half the team has to stand around waiting.

Some full-size fields have anchored goals. Those are not to be moved. The length of the field is set by the distance between the goals. The goals may not be exactly parallel, but it's more important that the goal line is straight and passes through the goal posts: eyeball.
Some large fields have an adjacent baseball diamond: keep the touch line at least three feet away from the gravel, so the assistant ('side') refs can run safely along the field.

Try to avoid bad spots in the field (overwatered, bare, irrigation control boxes) - but it's often not possible. The repainters should mark dangerous objects in the soccer fields.
2 fields, parallel
2 fields, not parallel
single fields
Walter Hays
El Carmelo
Hoover Park*
Fairmeadow
Hoover School
Duveneck
Ramos
Greer
Greer
*Hoover Park has 3 parallel fields and a fourth field to the side.
Hoover PARK is on Cowper Ave, near Safeway; Hoover SCHOOL is in Charleston Ave near to JLS and Mitchell Park.

For parallel fields only mark the outer corners. Try to keep fields at least 15' apart.
Make a guess where to put the field and lay it out to try if it fits:
Put in 1 metal stake, hook in measuring tape and measure to next spot; put in metal stake.
Hook measuring tapes in the metal stakes at the ends of the first line and triangulate to third spot.
Triangulate to fourth spot; you could confirm that the measuring was done correctly by checking the diagonal.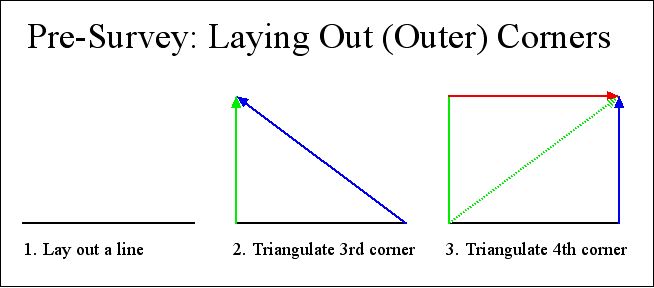 If the soccer field fits the area comfortably (it needs a little room to the sides, at least 3-5 feet), replace the metal stakes by the yellow plastic stakes:
Predrill hard ground by hammering in the blue hexagonal (octogonal?) driver(?). Loosen it by lightly hammering it sideways. Put in the yellow stake for about 1/3, then spray a solid 6" to 8" diameter dot of field paint around it (shake paint cans for about a minute before use.) Then hammer in yellow stake to slightly below dirt level. (If the paint is applied after hammering in the stake, the yellow won't stand out.)
If the pre-survey is more than 5 days before the surveying, the paint on the dots needs to be refreshed. Take care not to paint the stake.
Be sure not to leave metal stakes on the field. They may get stuck in the mowers and make the City very unhappy with us.
Equipment for one team, 2-3 fields:
4-5 measuring tapes, 300' if available
5 metal stakes
hammer
blue hexagonal (octogonal?) driver(?)
yellow plastic stakes
2 cans fields paint (about half a can for one field.)
(optional) wand for applying paint
fields diagrams
calculator with square root function for Pythagoras' theorem calculations
Surveying - Repainting - All Dimensions